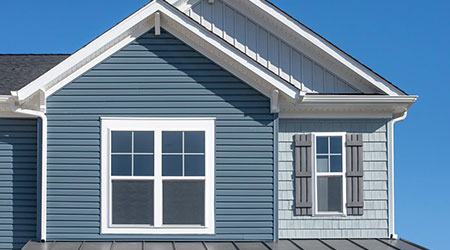 Your home's exterior is not only a protective shell; it's also a canvas upon which your personal style and preferences are showcased. When it comes to enhancing your home's curb appeal, durability, and overall aesthetic, vinyl siding emerges as a top choice. When paired with the expertise of Ontario Siding and Gutter, the possibilities for transforming your home are virtually limitless.
The Power of Vinyl Siding
Durability: Vinyl siding is renowned for its exceptional durability, making it a perfect fit for Ontario's varying weather conditions. The harsh winters and humid summers are no match for vinyl siding's ability to resist moisture, withstand impact, and retain its vibrant color and appearance over time.
Effortless Maintenance: Homeowners in Ontario understand the challenges of seasonal maintenance. With vinyl siding, maintaining your home's exterior is a breeze. A simple wash is often all that's needed to keep your siding looking brand new, saving you time and effort.
Energy Efficiency: Ontario's weather can be unpredictable, and energy efficiency is one of a top concern for homeowners. Vinyl siding, particularly insulated options, helps regulate your home's temperature, reducing the strain on your heating and cooling systems and ultimately lowering your energy bills.
Ontario Siding and Gutter: Your Partner in Home Transformation
Expertise and Craftsmanship:  Ontario Siding and Gutter ensures that your home's exterior is treated with the utmost care and professionalism. Our team of experts brings years of experience and a dedication to quality craftsmanship, ensuring your siding installation is flawless and built to last.
Customized Solutions: Every home is unique, and Ontario Siding and Gutter understands the importance of tailored solutions. With a wide variety of vinyl siding styles, colors, and textures, we work closely with you to bring your vision to life while enhancing your home's character and charm.
Seamless Installation: Proper installation is crucial for the long-term performance of your vinyl siding. Ontario Siding and Gutter's skilled installers ensure that your siding is expertly fitted, securely fastened, and effectively sealed, providing you with a durable and weather-resistant exterior.
Crafting Your Dream Exterior
When you choose vinyl siding with Ontario Siding and Gutter, you embark on a journey of transforming your home's exterior into a work of art. Here are a few ways you can personalize your home's new look:
Architectural Harmony: Match your vinyl siding's texture and color to your home's architectural style, whether it's a modern masterpiece, a charming cottage, or a timeless colonial.
Accentuating Details: Add character and depth to your home by incorporating decorative trims, corners, and accents that highlight architectural features.
Color Palette Play: Experiment with a spectrum of colors to find the perfect shade that complements your landscape, neighborhood, and personal taste.
Siding Transformation, One Home at a Time
As a trusted partner in siding and gutter solutions, Ontario Siding and Gutter understands that your home is your sanctuary. Durability and style of vinyl siding, helps in improving your home; you're elevating your living experience.
Whether you're looking to refresh your home's appearance, enhance its energy efficiency, or simply enjoy the peace of mind that comes with low-maintenance siding, vinyl siding with Ontario Siding and Gutter is the winning combination that's transforming homes throughout Ontario.
In Conclusion, Vinyl siding, when paired with the expertise of Ontario Siding and Gutter, is more than just an exterior enhancement—it's a statement of your home's resilience and beauty. With a seamless blend of durability, style, and skilled craftsmanship, your home's transformation is in the hands of professionals who are dedicated to making your dream exterior a reality. Embrace the enduring elegance of vinyl siding with Ontario Siding and Gutter, and embark on a journey toward a home that truly reflects your lifestyle and vision.